Learn Everything About Andy Capps Including Where To Buy Online
If you love Andy Capp's fries, this blog will be written with you in mind. At the same time, we'll reveal everything there's to know about this iconic snack brand. So if you love these little flavored baked fries, then prepare to discover everything about them and much more!

Indeed, we plan to cover all topics related to these snack fries including brand history, popularity, flavors currently available, and where you can buy them online for cheap! Better yet, we're going to help you save a ton of cash on your favorite snacks by providing you with an opportunity to buy them in 12-pack boxes for under retail value!

Best of all, you don't even have to leave our store to make it all happen! That's right; at Candy Retailer, we offer all your favorite candy & snack brands in bulk for cheap! In this post, we'll make it easy for you to discover all of Andy Capp's flavors, saving you money and now time! Let's discover more now, shall we?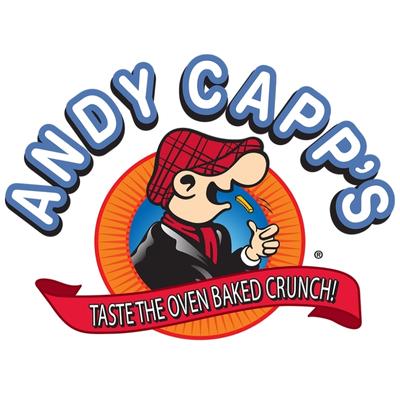 The True History of Andy Capps Fries As We Know It Today
Andy Capp's Cheddar Fries is a popular snack food in North America. They were first made by a company called Goodmark Foods, Inc. The snack was named after a cartoon character named Andy Capp, which is a British cartoon strip popular in newspapers since the 1950s. In fact, the character is known for his love of beer and his laid-back attitude.
Several years later in 1971, Goodmark Foods came up with a unique idea to market this British character in the US, and they were successful. Then in 1988, ConAgra Foods (now Conagra Brands), the current manufacturer and distributor of the product, purchased Goodmark Foods. Since then, as you know it to be true, the rest is history!
Overall, Andy Capp's Cheddar Fries are a classic snack enjoyed by millions for over 50 years. The combination of high-quality ingredients and the authentic flavor of cheddar cheese combined makes this snack a popular choice among chip lovers worldwide. The manufacturer, Conagra Brands continuously innovates and improves upon the recipe, making it a staple snack choice for the times. 
Nowadays, the snack is available in many stores across North America and can be found in chip aisles across the country, but no supermarket can offer you 12-pack cases like Candy Retailer; as you're about to see!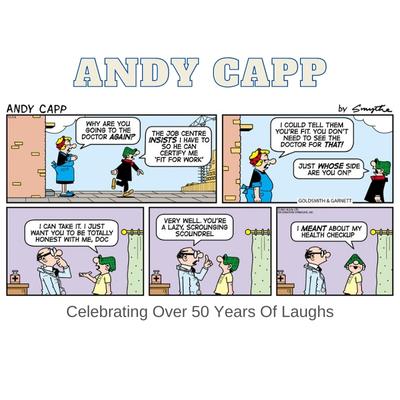 The Popularity of Andy Capp's Cheddar Fries
First and foremost, the combination of crispy potato chip-like fries with real cheddar cheese flavor resonated well with almost everyone. Not to mention, the snack's popularity is likely due in part to its versatility – it can be enjoyed as a snack on its own or paired with a sandwich or burger to add extra flavor!
Over the years, the brand has also expanded its product line to include different flavors such as BBQ & Hot Fries to name a few; this variety in flavors helps attract different taste buds and new customers every day! So if you're looking for a fresh, American-made snack produced by a household brand name, then give Andy Capp's Fries a try, you'll be so glad you did.
All in all, Capp's Cheddar Fries have become a staple snack in many households in North America, and are widely available in supermarkets and convenience stores across the continent. Despite facing tough competition in the US snack industry, this brand continues to be a fan-favorite among snack and chip lovers nationwide! Therefore, in terms of popularity, this brand enjoys plenty, and it's easy to understand why!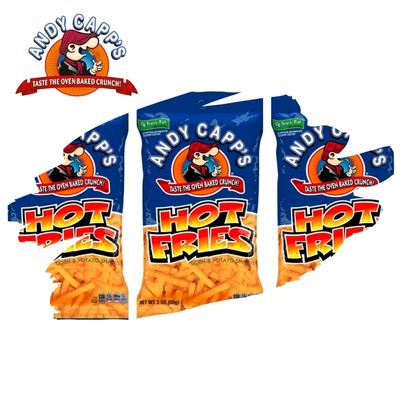 Andy Capp's Flavors At Candy Retailer
With six awesome flavors to select from, we're sure you'll find something that sounds appealing to you! We've already tried them all, and we love them all. However, you have to find the flavor that suits you best.
On that note, we decided to rank all six flavors based on how many sales we received for each flavor. The data revealed here is based on site reviews and total sales. We wanted to do this because factual and it may help make it easier for you to decide on a flavor. So without further ado, let's explore the popular flavor options available at Candy Retailer.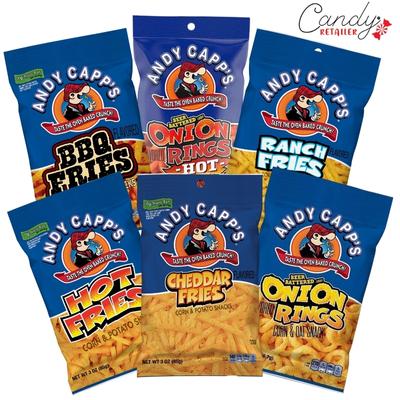 Andy Capps Cheddar Fries
Say goodbye to boring snacks and hello to a new, cheesy favorite with Andy Capp's Cheddar Flavored Fries. This delicious baked corn and potato snack is the perfect alternative to traditional potato chips. Indeed, these fries offer a savory and satisfying crunch, packing a burst of cheddar flavor in every bite! Perfect for on-the-go, or for a lazy afternoon snack; each 12-pack case contains 12/ 3oz bags per case. Order today and enjoy fast nationwide shipping!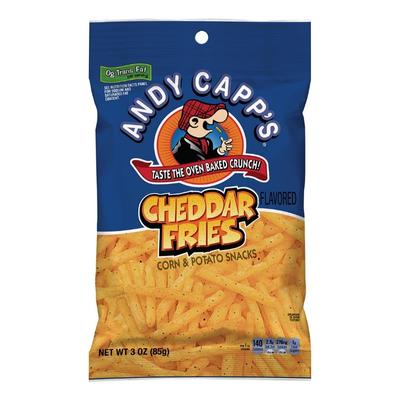 Andy Capps Hot Fries
Experience a fiery kick of flavor with Andy Capp's Hot Fries. These crispy snacks are perfect for adding a little heat to your snack game. Each bite packs a punch of spiciness, guaranteed to awaken your taste buds and leave you craving more! Whether you're on a road trip, hitting the books, or just looking for something new, these fries are perfect for any occasion.
With the unique combination of the fry-like shape with the chip-like crunch, these spicy fries are a game-changer. Order now at Candy Retailer and elevate your snacking experience! You can now buy them here in a 12-bag case and have them delivered to you in just a few days! Pick up a case today and we'll handle the rest. Click the button below to make it happen!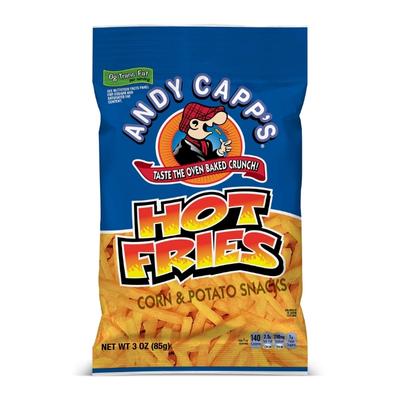 Andy Capps BBQ Fries
Get ready for a taste explosion with Andy Capp's BBQ Flavored Fries. The perfect blend of crispy fries and smoky, spicy BBQ flavor. These snacks are the ultimate combination of taste and nostalgia. Perfect for any occasion, take them on the road, share them with friends or enjoy them at home alone. Each 3 oz bag is packed with bold flavor and comes in a 12-pack case. Upgrade your snack game and indulge in the ultimate taste sensation with Andy Capp's BBQ Flavored Fries. Now Available at Candy Retailer.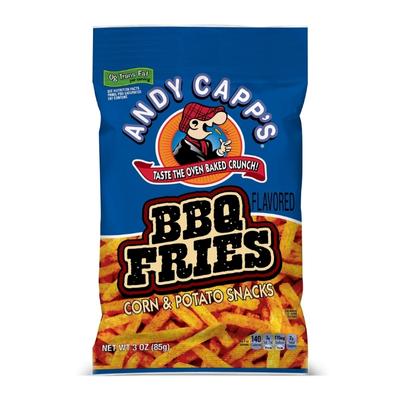 Andy Capps Hot Onion Rings
Try Andy Capp's Hot Onion Rings for a spicy twist on a classic snack. Crispy golden rings with a kick of heat in every bite. Perfect for on-the-go, sharing, or at-home snacking. Each 12-pack comes with 12/ 3oz bags of Hot Onion Rings! You can now buy them here at Candy Retailer. We offer fast shipping with most orders arriving in 2-3 business days. Click the button below and we'll redirect you to our product page where you can discover or purchase.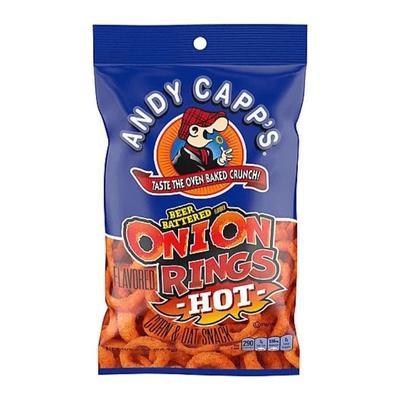 Andy Capps Beer Battered Onion Rings
Get ready to get your crunch on with Andy Capp's Beer Battered Onion Rings! These crispy rings have a perfect balance of savory onion flavor, a hint of beer, and a satisfying crunch. Conveniently packaged in 12-pack cases, each containing 12/ 3oz bags for long-lasting satisfaction. Order now at Candy Retailer for a fresh alternative to traditional potato chips. Perfect for any time snacking! Order a box today and we'll deliver it straight to your front door in just a few days tops!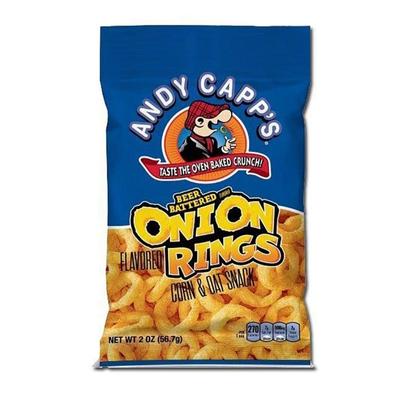 Andy Capps Ranch Fries
Introduce your taste buds to a new level of flavor with Andy Capp's Ranch Fries! The perfect blend of crispy fries and tangy ranch seasoning. We now offer this hard-to-find Andy Capp flavor in 12-pack cases, with each containing 12/ 3oz bags of zesty, crunchy fries. Order today at Candy Retailer and elevate your snack game to new heights. Perfect for any time crunching, pick up a case today and enjoy them for days and weeks to come!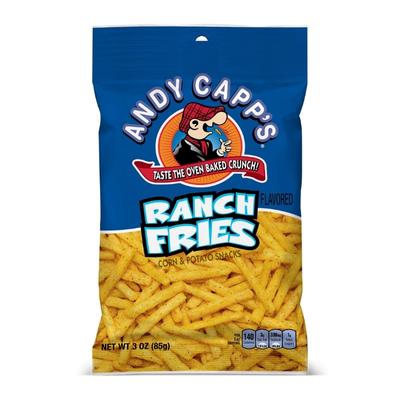 Why Buy Andy Capps At Candy Retailer
As an official retailer of Andy Capp's products, we're 100% committed to providing our customers with the best prices and freshest products possible. We know that freshness is key when it comes to snacking, and that's why all of our candy and snack products, including Andy Capp's, is housed in a temperature and humidity-controlled environment, ensuring that you never receive stale or outdated products when you shop with us.
In addition to our commitment to freshness, we also pride ourselves on providing our customers with fast and reliable shipping. Most orders ship the next day and arrive in just 2-3 business days, making it easy to stock up on your favorite snacks without having to wait around. Plus, if you're ever in the Cincinnati area, be sure to drop by our physical store, we love visitors and we're always open to serving you in person.
Lastly, as a commitment to our customers and to the brand, we guarantee that our products are always the freshest available on the market and of the best quality. We believe that it's important for our customers to know everything there's to know about the foods they consume, so if you ever have any questions about our products, please don't hesitate to reach out, we will be more than happy to help. Thanks for choosing Candy Retailer for your Andy Capp's snack needs!