Learn Everything About Buds Best Cookies Including Where To Buy Online And Save
Founded in 1992 by Bud Cason, Bud's Best Cookies is a gem cookie brand that only a few selected cookie lovers know about. At the time of this posting, this could be one of the most underrated snack brands in America!

The company is based in Birmingham, Alabama, and is known for its small, bite-sized cookies that come in a variety of flavors, including chocolate chip, peanut butter, and oatmeal raisin to name a few; we'll discuss them all in this blog post.
However, before we get into all the sweet & delicious stuff, we first want to tell you more about this southern all-American brand of cookies! There are some things that need to be kept a secret, but Bud's Best Cookies isn't of them!

Made with high-quality ingredients Bud's Cookies are baked in small batches to ensure that each cookie is fresh and delicious. The company's motto is "Love at first bite," and that can't be any closer to the truth! You must try them because words don't justify the quality and flavor!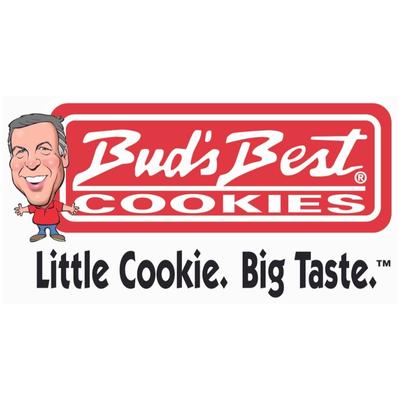 The History of Bud's Best Cookies
Before starting Bud's Best, he owned and operated Greg's Cookies and the Bishop Baking Company. Then in 1986, Bud sold both businesses and agreed to a five-year non-compete clause.
A few years later in 1991, Bud began the construction of an 89,000-square-foot facility for his new cookie company. The first cookies were sold in April 1993 with sales reaching $1.8 Million that year! Since then, it's been all success!
Bud's Best introduced a new type of cookie to the market called bite-sized cookies but initially struggled to convince customers of other brands to switch. However, the company eventually found success by manufacturing cookies for a national baking company and won the "Co-packer of the Year Award" in 1998.
Four years later, in 2002, the company would go on to expand its facility by 47,000 square feet and double its production capacity. Nowadays, Bud's 130,000-square-foot facility has the capacity to produce over 1 million cookies per hour!
All in all, Bud Cason has been in the cookie industry for over 50 years! During those years, Bud's Best Cookies received the Business of the Year Award from the Leadership Alumni Association of Shelby County in 2002 and was recognized as one of the best small businesses in Birmingham by the Birmingham Business Journal in 1998 and 1999.
In 2012, Bud announced the promotion of his son, Al, to company president while he remains CEO and chairman of the board as of today! He also has a new line of cookies called Uncle Al's Cookies, which we highly recommend trying!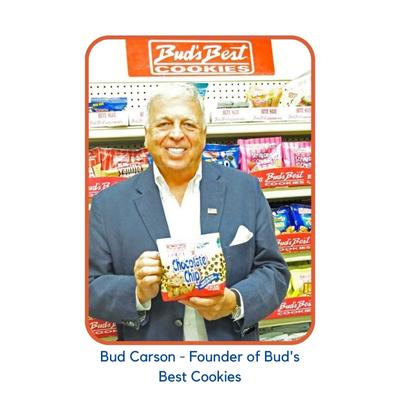 Our Favorite Bud's Best Cookies DIY Recipe
First and foremost, there is no wrong way to use Bud's Best Cookies! The recipe that we're going to share with you today can also be found on the company's website, where you can find several more delicious DIY home recipes!
Indeed, they offer the following nine dessert recipes; so if you're interested, make sure you check them via the link above.
Adelaide's Famous Original Banana Pudding
Dirt Cake
Lemon Fluffy
Lazy Ice Cream
Rosemary's Chocolate Cookie Cheesecake (Our Favorite)
Cookies and Cream Dessert
Cream Cheese Vanilla Wafers
Gingersnap Pumpkin Pudding
Gingerbread Pumpkin Cheesecake with Cookie Crust
So as you can see, when it comes to awesome DIY dessert recipes, Bud's Cookies are a must-have! Over the years, we've tried many of these recipes, although Rosemary's Chocolate Cookie Cheesecake really stood out the most. Below you will learn how to make it yourself.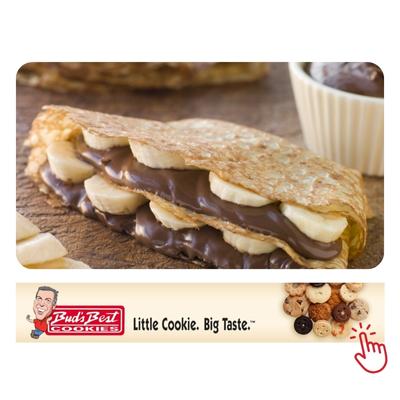 Rosemary King's Chocolate Cookie Cheesecake Recipe
Originally made by Rosemary King, her chocolate cookie cheesecake recipe is an all-American favorite you must try tonight! This is how you make it…

Ingredients
2 cups Bud's Best CACO cookies, crushed
2 tablespoons butter, melted
1/4 cup firmly packed brown sugar
4 8 oz. blocks of cream cheese, softened
1 1/4 cups sugar
1/3 cup whipping cream
2 tablespoons vanilla extract
4 large eggs
16 oz sour cream
1/4 cup sugar
1 teaspoon vanilla extract
4 tablespoons flour
1/3 cup whipping cream
1 1/4 cups semisweet chocolate chips
1 teaspoon vanilla extract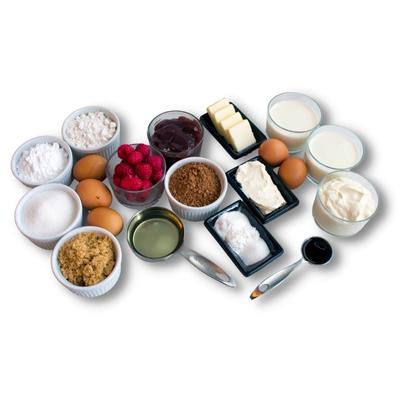 Instructions
Preheat your oven to 350°F (175°C). In a bowl, combine the crushed cookies, melted butter, and brown sugar. Firmly press this mixture evenly in the bottom and 2 inches up the sides of a lightly greased 10-inch pan. Bake for about 12 minutes, then set aside.
In a large mixing bowl, beat the cream cheese until creamy. Gradually add 1 1/4 cups of sugar, then add 1/3 cup of whipping cream, flour, and 1 teaspoon of vanilla extract. Add the eggs one at a time, mixing well after each addition.
Pour 3 1/2 cups of the batter into the prepared crust, then top with the crushed CACO cookies. Pour the remaining batter on top of the cookies. Bake at 325°F (160°C) for 1 hour and 15 minutes.
In a separate mixing bowl, combine the sour cream, 1/4 cup of sugar, and 1 teaspoon of vanilla extract. Spread this mixture over the cheesecake, then bake at 325°F (160°C) for about 7 minutes.
Turn the oven off, but leave the cheesecake in the oven with the door closed for about 45 minutes. Remove the cheesecake from the oven and let it cool. Cover and chill it in the refrigerator for at least 8 hours.
Remove the sides from the pan, then set the cheesecake aside. In a saucepan, combine the 1/3 cup of whipping cream and the semisweet chocolate chips.
Stir over low heat until the chocolate has melted, then stir in 1 teaspoon of vanilla extract. Carefully spread this mixture over the cheesecake.
Place the cheesecake in the refrigerator to chill. Garnish the top with crushed CACO cookies before serving.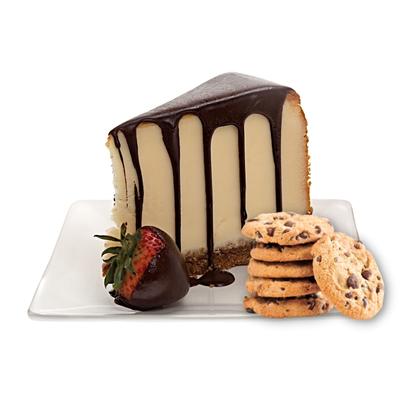 Where To Buy Bud's Best Cookies Online
Truthfully, there are only a few places online where you can buy fresh Bud's Best Cookies. Luckily for you though, you're here at Candy Retailer right now and we're an official retailer of these awesome cookies!
That's right, we now offer Bud's Best Cookies right here at Candy Retailer! Better yet, we offer all flavors in large-size packages! Plus, we ship door-to-door, nationwide! So if you've been on the hunt for these cookies, or looking to try something new, then check out all these flavors listed below.
For your convenience, we added a link button below each image that'll redirect you straight to our product page; you don't even have to leave our site to bring home the magic! On that note, let's discover more, shall we?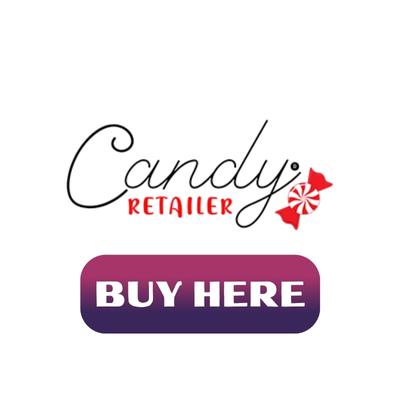 Buds Best Butter Cookies
Bud's Best Butter Cookies are a classic cookie flavor made with high-grade ingredients. They're soft and tender, with a rich buttery flavor. Also, they're enjoyed as a snack or dessert and are a popular choice for gift-giving! The cookies are made in small batches to ensure quality and freshness. Lastly, they're known for their delicious taste and satisfying crunch. Try them today!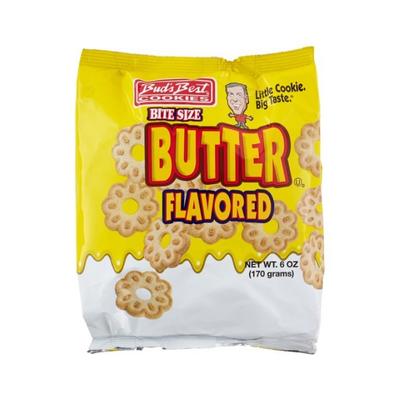 Buds Best Caco Creme Cookies
Bud's Best Caco Creme Cookies are a delectable treat featuring a chocolate cookie exterior filled with a creamy chocolate center. These cookies come in a 6oz bag and are made with top-quality ingredients for a rich, decadent flavor.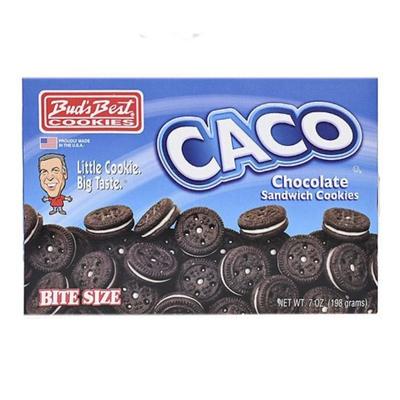 Buds Best Candy N Cookies
Bud's Best Candy N Cookies are a delightful combination of two classic treats: cookies and candy. These cookies come in a 6oz bag and are packed with colorful, sweet candy pieces. They are sure to satisfy your sweet tooth and make a great snack or dessert. Enjoy these tasty cookies anytime, anywhere.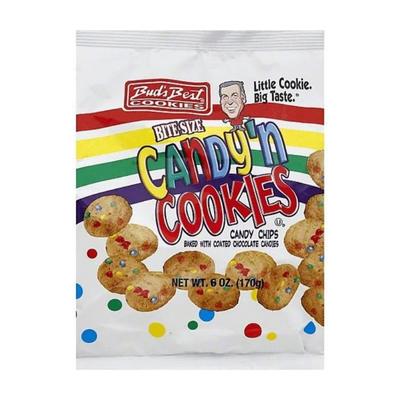 Buds Best Chocolate Chip Cookies
Bud's Best Chocolate Chip Cookies are a classic cookie flavor that's perfect for satisfying your sweet tooth. These cookies are made with rich, chocolate chips and are sold in a 6oz bag at Candy Retailer. Enjoy these delicious cookies as a snack or a dessert. Order now and enjoy fast nationwide delivery!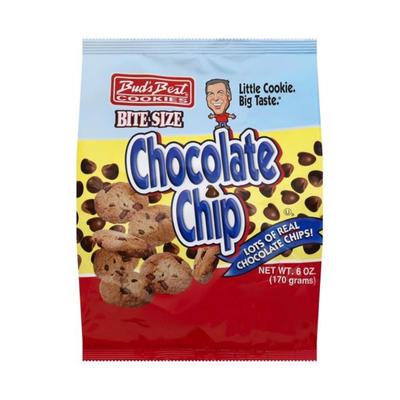 Buds Best Chocolate Peanut Butter Cookies
Bud's Best Chocolate Peanut Butter Cookies are a classic sweet treat made with, of course, chocolate & peanut butter. They come in a 6oz bag and are sold here at Candy Retailer. They're a delicious and indulgent snack, totally worth a try, especially if you love this classic flavor combo!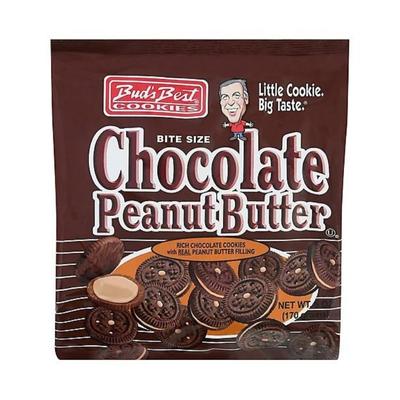 Buds Best Coconut Bars
Bud's Best Coconut Bars are a delicious and convenient snack that is perfect for sharing or enjoying alone. Each bag contains six ounces of creamy, coconut-flavored goodness that are sure to delight your taste buds. These bars are sold here at Candy Retailer and ship nationwide. Order today and let us deliver to you!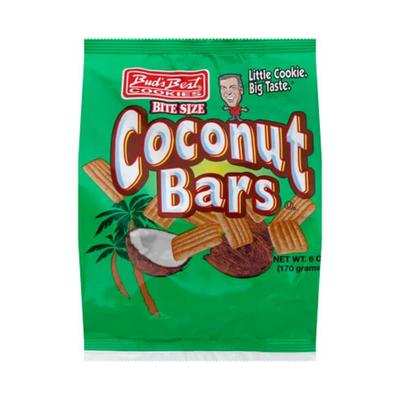 Buds Best Lemon Cremes
Bud's Best Lemon Cremes are a type of lemon-flavored cookie sold here at Candy Retailer. They're available in 6-ounce bags, which are convenient for sharing. The cookies have a soft, creamy filling and a crispy, biscuit-like exterior. Lastly, they're a popular choice for those who enjoy a sweet and tangy treat; give 'em a try and let us know what you think!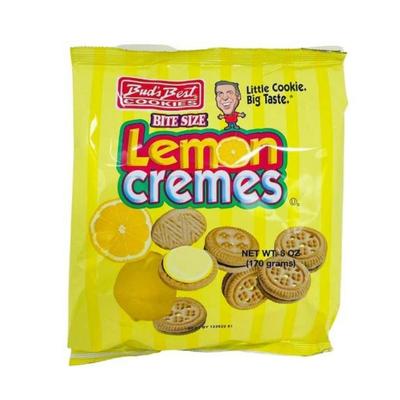 Buds Best Pecan Chocolate Chip
Bud's Best Pecan Chocolate Chip Cookies are a unique cookie flavor made with real pecans and chocolate chips. They come in 6-ounce sharable-size bags, making them perfect for sharing with friends and family. These cookies are now sold at Candy Retailer, so order today and enjoy huge savings!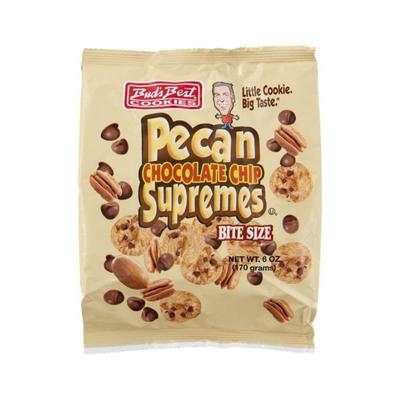 Buds Best Pecan Supremes
Bud's Best Pecan Supremes are a type of pecan cookies sold in 6-ounce bags at Candy Retailer. These cookies are known for their big taste despite their small size and are a popular flavor among pecan cookie lovers. So if that's you, scoop up a bag today and we'll deliver it straight to you right away!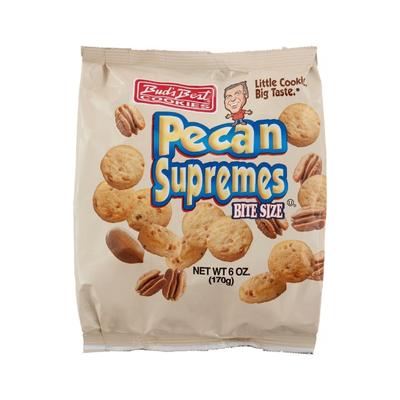 Buds Best Strawberry Cremes
Bud's Best Strawberry Cremes are a delicious and fun cookie flavor sold in 6oz sharable bags. These cookies pack a big flavor and are perfect for sharing. You can buy this highly sought-after flavor here at your favorite online candy shop, Candy Retailer. Order now.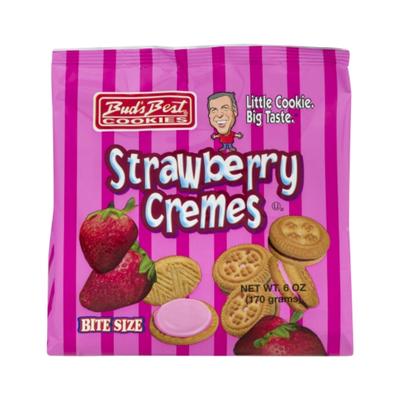 Buds Best Vanilla Wafers
Bud's Best Vanilla Wafers are a classic, beloved treat. They're now sold fresh in convenient, fun-size 3oz bags, making them perfect for sharing. Indeed, these vanilla wafers have the classic flavor you know and love and can be found exclusively here at Candy Retailer. Order today and enjoy!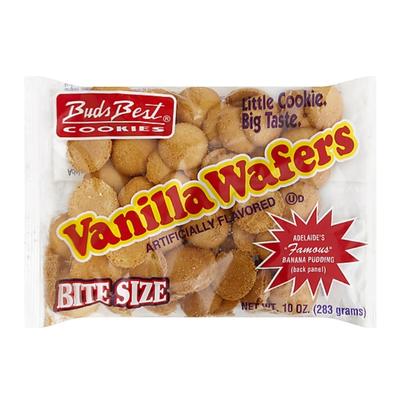 Buy Bud's Best Cookies At Candy Retailer And Save
In conclusion, Candy Retailer is the best place to purchase your next bag of Bud's Best Cookies. Not only do we offer competitive prices, but we also have fast shipping times, with most orders arriving within 2-3 business days!
Additionally, all of our candy and snack products are stored in a state-of-the-art facility that uses advanced temperature and humidity control to guarantee freshness; and with a wide variety of cookie flavors available, our stock is always fresh and full. So why wait? Order from Candy Retailer today and taste the difference for yourself.
For those looking to save money on their favorite cookie brand, Candy Retailer is the way to go. Our prices are among the best online for Bud's Best Cookies. Plus, with fast shipping and a commitment to freshness, you can trust that you'll be getting a high-quality product every time.
But it's not just about the price. Candy Retailer's modern storage facility ensures that all of our products, including Bud's Cookies, are kept in optimal condition. This means that you can be confident that you're getting the freshest cookies possible.
On that note, click any button or image above and place your order here today at Candy Retailer. Not only will you be getting a great deal, but you'll also be getting the freshest and most delicious Bud's Best Cookies available online. Trust us, your taste buds will thank you!