Discover Everything About Chuckles Candy Including Where To Buy Online
Chuckles Candy is an iconic, American-made jelly confection that's been in existence for over a century! First introduced in 1921 by Chicago candy salesman Fred W. Amend, Chuckles quickly became a hit with candy lovers nationwide!  
The original factory was located in Danville, Illinois and the brand was later acquired by a number of companies, including Nabisco, Leaf, The Hershey Company, Farley's & Sathers, and lastly, the Ferrara Candy Company.
Chuckles come in five irresistible flavors: cherry, lemon, lime, orange, and licorice. Each flavor packs a powerful punch of sweet and chewy goodness, making them an instant hit with whoever tries them for the first time! Despite their long history, Chuckles remain just as popular today as they were when they first hit the market.
Indeed, the journey of Chuckles Candy has been a long and winding one, but one thing remains constant; the smile-inducing power of these timeless candies! From the early days in Danville to the worldwide stage, this candy is just as original now as it was in the beginning!
Today, Chuckles Candy is owned by the Ferrara Candy Company, a company dedicated to keeping classic candy brands alive and on the shelves! So if you're looking for a blast from the past, then scoop up a bag today at Candy Retailer and relive those sweet memories, or create some new ones!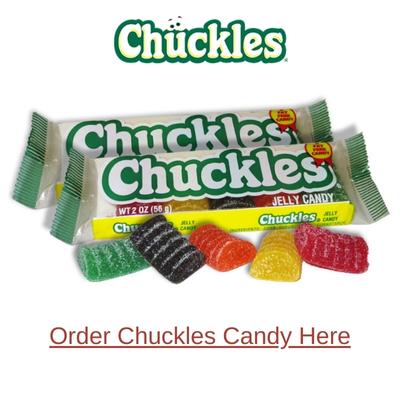 Buying Chuckles Candy Online Is Easy And Affordable
Truthfully, when it comes to purchasing Chuckles Candy online, there are several places to buy including here at Candy Retailer. However, not everyone offers the same prices, package options, and most importantly, quality!

Now, we won't speak negatively about others, but as for us, we aim to offer the best prices online, period. Plus, all of our candy products including Chuckles, are stored on-site in our advanced state-of-the-art storage and shipping facility. Also, our doors are always open to the public! So if you're in the Cincinnati area and looking for a sweet deal on some Chuckles Candy, stop by and visit us! Mention this blog post when you visit us and receive 10% Off your total order! 
You can only do this once, so come prepared to stock up if you want to maximize your savings! Keep in mind, we also sell much more than just candy, so you never know what you'll find when you visit us in person, but we'll let it be a surprise! Get Directions To Us Here.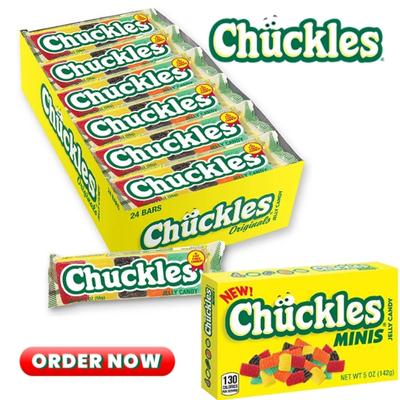 Chuckles Candy Package Options Available Today
So now that you know everything about Chuckles Candy including its history and where to buy, it's time to take action! Here at Candy Retailer, we offer the Original Chuckles Bar in a bulk-size 24-pack box and single theater candy boxes of Chuckles Minis!

To secure your order of Chuckles today, click the image or button above and we'll instantly redirect you to our Ferrara Candy product page, from there, scroll down to Chuckles and securely place your order! 
We generally ship the next day, with most orders delivering in 2-3 business days. Also, our customer service accepts calls if you need any help placing an order. Our phone number is 1-855-246-1038, open Monday-Friday 8 AM to 5 PM.