Enjoy Our Oreo Cookies List Made With You In Mind
With over 35 billion Oreo Cookies sold every year, it's clear that this is the #1 best-selling cookie brand of all time! Not to mention, a third of those sales come from the US alone! So if there's one thing for certain, Oreo IS America's favorite cookie, no doubt about it.
In this blog post, we'll discuss everything there's to know about these cookies including brand history, popularity, current statistics, and of course, where you can easily buy them online, in bulk! So if you love Oreos, then you're going to love what we have in store for you today!

At Candy Retailer, it's our goal to present you with the facts only, no fluff. Plus, we aim to help you discover hard-to-find package options that you simply can't find anywhere else! In fact, we have thousands of customers who own convenience stores who purchase from us because of our affordable bulk options and prices!
On that note, we've now made it super easy and convenient for everyone to buy in bulk, allowing YOU access to the best bulk cookie deals online. Currently, we don't ship internationally, however, we're aiming to offer worldwide shipping soon, so please subscribe to receive that update.
Without further ado, let's dive into all the facts about Oreo Cookies; then after that, check out our complete list of available products just waiting for you to discover! Also, keep in mind, we're NOT an affiliate site, so we'll never redirect you somewhere else to order.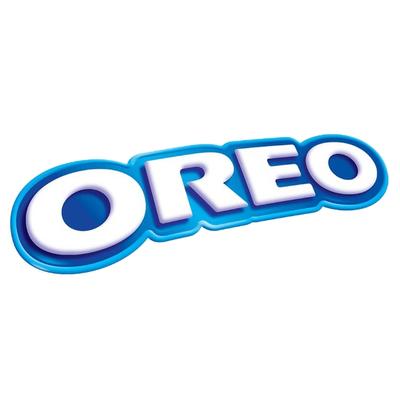 The Real History Of Oreo Cookies As We Know It Today
Oreo Cookies have a rich and fascinating history that dates back to 1912. Indeed, Oreo Biscuits, as they were originally called, were created by Nabisco in New York City.
The cookies were introduced as an Hydrox cookie imitation, which was introduced four years earlier by the Sunshine Company. But as the world witnessed, Hydrox couldn't compete with Oreo, and eventually conceded the crown!
As for the original design, Oreo first featured a wreath around the edge of the cookie with the name "OREO" in the center. At that time, these cookies sold for $0.25 per pound in novelty metal canisters with glass tops. Oh, how times have changed.
Over the years, Oreos would undergo several name changes including Oreo Sandwich, Oreo Crème Sandwich, and Oreo Chocolate Sandwich Cookie in 1974; which was also the same year Oreo Double Stuf cookies were introduced.
In 1989, the orange-colored cream Halloween Oreo was released, which is still available in October. A year later, Oreo Minis were launched, they're also still around today and can even be purchased here at Candy Retailer.
Overall, Oreo Cookies are loved by everyone! From old generations to new, these cookies have no boundaries! To prove this, in 2006, Oreo officially became China's #1 best-selling cookie brand of all time; and they've been around for thousands of years!
Nowadays, they're still the #1 cookie, and there isn't a brand that comes close to owning this title. Below, you'll discover all the facts supporting these claims, let's take a closer look…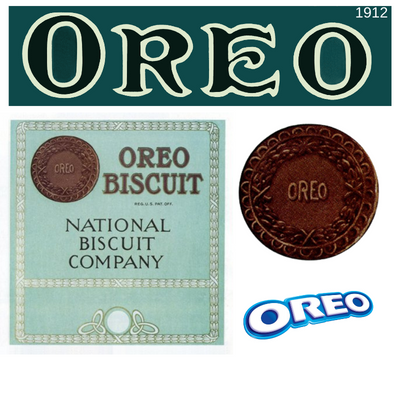 Fascinating Facts About Oreo Cookies
With over 110 years of history, this iconic cookie brand comes with a lot of interesting facts! In fact, there are so many fascinating details about Oreo Cookies, that it would be impossible to list them all here. However, as always, we encourage all our readers and customers to share their thoughts in the comment section below! So if we missed anything here, please sound off and let us know!
1. Oreo Cookies generate $1 Billion a year in annual revenue, which is roughly $400 Million more than the second-best-selling cookie! See the full list here.
2. Oreos have over 40 million fans who follow them on Facebook and nearly 4 million on Instagram, plus they engage almost daily! You can follow them here.
3. According to Google Keyword Planner, the word "Oreo" is searched over 90,000 times a month, and over 5 million monthly searches feature the word Oreo.
4. If you enjoy getting creative in the kitchen, then head over to the Oreo website and click the RECIPES tab! Once there, you'll find hundreds of unique DIY recipes worth exploring!
5. Half of all Oreo consumers prefer to twist their cookies open before eating or dunking them! So how do you eat your Oreos? Let us know in the comments.
All in all, there are several fun facts about Oreo Cookies, too many to list. So if you have some facts, please share them, we want to know!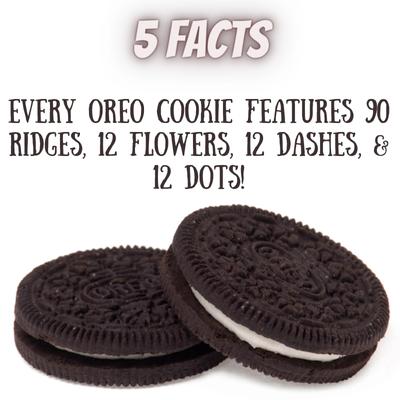 Discover All Types And Flavors Of Oreo Cookies
It's no secret, Oreo Cookies come in several different types and flavors; proving that they're the most innovative and creative cookie brand in the world. Here at Candy Retailer, we're motivated to find all these cookie flavors in bulk, that way you can enjoy more and spend less!
That said, we may not offer all the current Oreo flavors right now, but we're always adding them to our inventory, so make sure you check back often to discover what's new! Moving ahead, here is a list of all the Oreo flavors and types available today!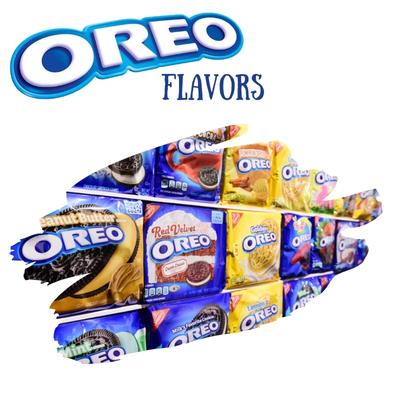 Oreo Chocolate Sandwich Cookies
Oreo cookies are America's favorite sandwich cookie for over 100 years. Not only are they supremely dunkable, but they're the original flavor and the best-selling. Great for parties, school lunches, or dessert recipes, there's simply no wrong time to enjoy an Oreo!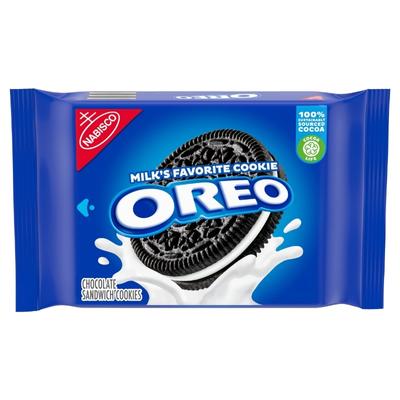 Oreo Cakesters Soft Snack Cakes
Oreo Cakesters offer a soft-baked twist on the classic cookie. They're made with creme filling sandwiched between two chocolate cakes. Each pack includes 2 cakes, perfect for lunch, birthdays, office snacks, or after-school treats. Plus, they're a deliciously unique twist on America's Favorite Oreo chocolate sandwich cookie! Discover the hype!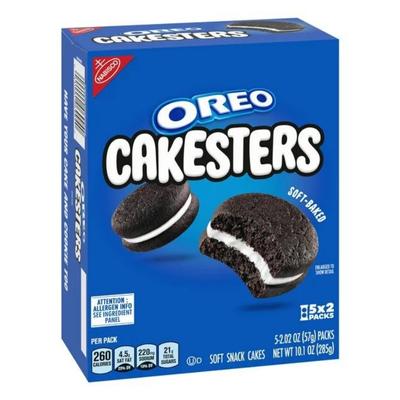 Oreo Duble Stuf
Oreo Double Stuf Cookies have been an American sensation since launching in 1974. Stuffed with twice the creme, they're just as dunkable as the Original Oreo, just twice as delicious! Perfect for sharing, traveling, parties, or enjoying alone with a cold glass of milk.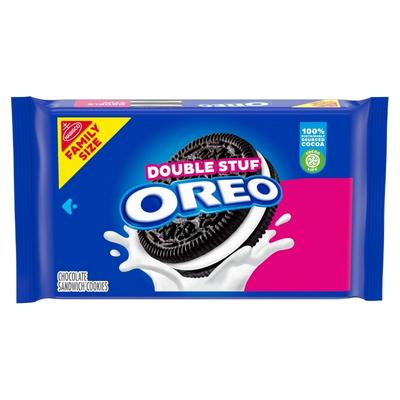 Oreo Mega Stuf
If you thought you loved Double Stuf, then wait until you try Oreo Mega Stuf. So if you have a thing for Oreo Creme, then scoop a pack of these Mega Stuf'd cookies and indulge until your heart smiles!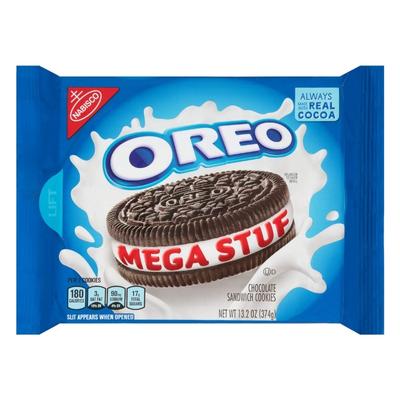 Oreo Golden Sandwich Cookie
Oreo Golden Cookies are a classic all-American favorite made with vanilla-flavored cookie biscuits and classic Oreo creme filling. In other words, they're Vanilla Oreo Cookies! So if you're looking for a unique twist to your favorite chocolate cookie, then give this flavor a try and let us know what you think!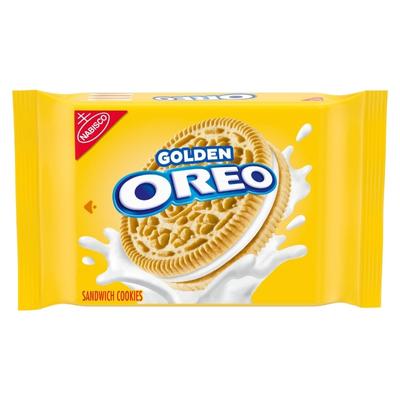 Toffee Crunch Chocolate Sandwich Cookies
Oreo Toffee Crunch Cookies are a classic snack with an added burst of toffee flavor. These chocolate cookies are filled with rich toffee-flavored creme, making them perfect for dunking and indulging. Also, they come in a family-size bulk package, so they're perfect for sharing with friends, serving at parties, or enjoying with a frosty glass of milk. Order today and give 'em a try!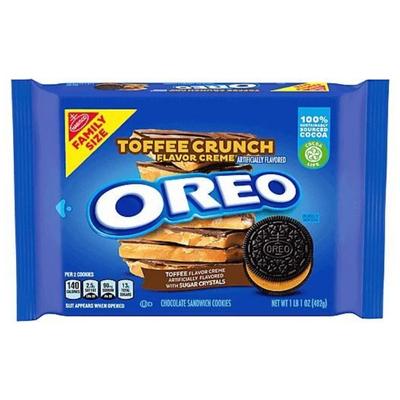 Chocolate Hazelnut Flavored Creme
Chocolate Oreo cookies filled with chocolate hazelnut-flavored creme are delightful pairing fans know, love, and appreciate. This flavor isn't an easy find, so if you see it available today, jump on it because we often sell our fast, but don't worry, if we're out of stock, it will soon be plentiful again, so always stay tuned.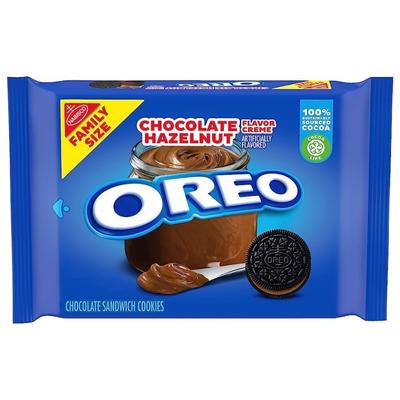 Oreo Java Chip
Coffee and Oreo fans will rejoice over the uniquely, delicious pairing of chocolate java-flavored creme cookies featuring miniature chocolate chips! It's the perfect union for milk's favorite cookie, and it's a personal favorite! Yup, I'm talking about myself, the guy who is writing this blog, these cookies are the bomb, but no worries, I'll save you some!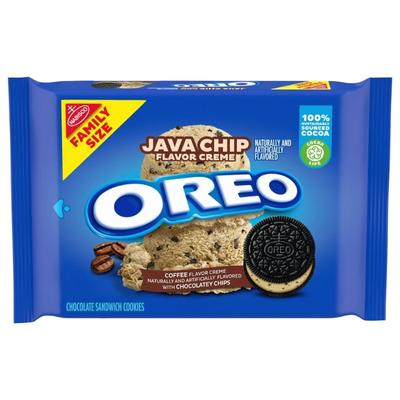 Oreo Mint Creme
Classic Oreo cookies get a refreshing upgrade with the Oreo Mint Flavored Creme Chocolate Sandwich Cookies! These chocolate cookies are filled with a sweet mint-flavored creme, delivering a perfect balance of sweet and fresh. Order today and experience it for yourself.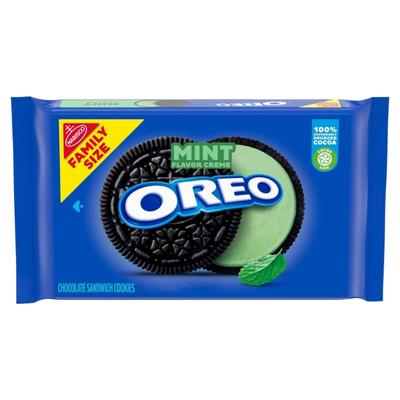 Birthday Cake Flavored Creme Oreos
Celebrate every day with Oreo Birthday Cake Chocolate Sandwich Cookies, a festive twist on the classic cookie you know and love! These chocolate cookies are filled with a sweet birthday cake-flavored creme and adorned with colorful sprinkles, making them a delicious treat for any occasion, especially birthdays!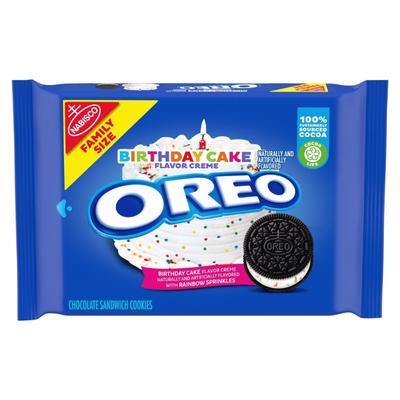 Dark Chocolate Oreos
For all of you Dark Chocolate Oreo fans out there in Cookieland, we now offer your favorite flavor right here at Candy Retailer. With thousands of searches a month for these cookies, they're one of the most sought-after Oreo flavors on the market today!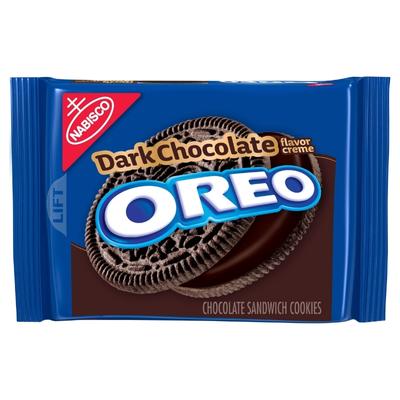 Chocolate Peanut Butter Pie Oreo Cookies
Relax with the comforting flavor of Oreo Chocolate Peanut Butter Pie Sandwich Cookies. The chocolate and peanut butter creme-flavored filling and graham-inspired wafers create a delicious, melt-in-your-mouth snack experience that's always within reach! Sweeten your day with these hard-to-find Oreo Cookies!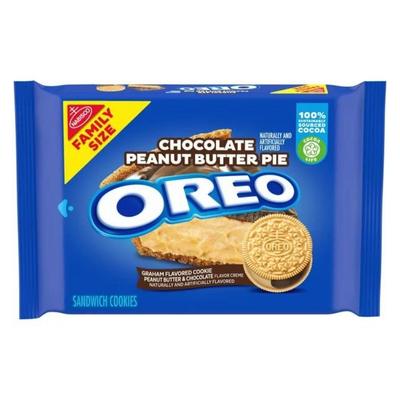 Peanut Butter Creme Oreo
Oreo Peanut Butter Creme Cookies are a classic treat with a nutty twist. The chocolate wafers are filled with a real peanut butter creme, making them one of the most sought-after peanut butter cookies on the market today! If you never tried them before, here's your chance!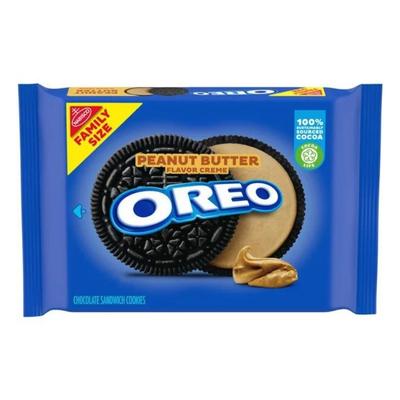 Caramel Coconut Oreos
Oreo Caramel Coconut Flavored Creme Cookies are a delicious anytime snack, with or without milk! The classic chocolate wafers are packed with caramel, and coconut-flavored creme, adding a unique twist to the beloved Oreo. Order today in bulk, that way you're well-prepared for when those special moments come around.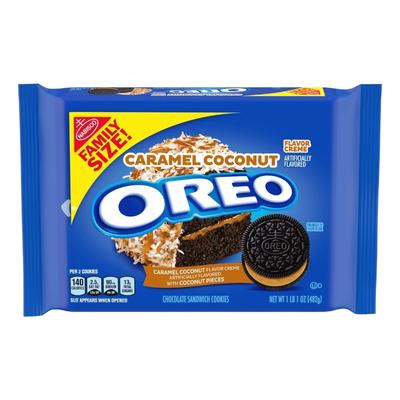 Where to Buy Oreo Cookies Online
Truthfully, you can buy Oreo Cookies just about anywhere online and offline for that matter. However, when it comes to buying in bulk and finding all your favorite Oreo flavors in one place, there's no better place to shop than here at Candy Retailer!

Not only are we America's # favorite candy & snack store, but we also make it easy for the everyday shopper to find all of their favorite flavors in one place. Nowadays, the supermarket doesn't offer you everything, maybe just a few flavors, and that's all.

So if you're tired of getting denied, then skip the line and secure your favorite Oreo flavors right here at Candy Retailer! All of our items are stored on-site in a modern, state-of-the-art temperature and humidity-controlled environment, ensuring your products arrive fast and fresh every time, guaranteed.

Best of all, we're a real candy & snack shop located just south of Cincinnati in Newport, Kentucky! So if you're ever passing through or live in the area, stop by and scoop up your Oreo Cookies in person; and if you mention this blog, we'll take 10% off your first order.

As always, thank you for checking us out today, we hope that we were able to help you find all your favorite Oreo Cookies available on the market today. If we missed anything, please let everyone know in the comment section below. Thanks in advance!