Discover Everything About Nerds Candy Including Where To Buy Online
If you love Nerds Candy as much as we do, then please know that we're writing this blog post with you in mind. In fact, we'll tell you everything there's to know about this beloved candy brand including the history of Nerds and where you can buy it online for cheap! 
However, as many of you know, we're one of America's top candy & snack stores online. So when it comes to where you can buy Nerds Candy, we promise to never send you to another website to make it happen! In other words, if we recommend a brand, product, or flavor, then we have it available right here at Candy Retailer.
Our #1 goal today is to reveal everything there's to know about Nerds Candy; plus, we want to help make it easier for you to find all your favorite flavors all in one place; and if we're lucky, maybe you'll even discover a new flavor that you never heard of or tried before!
To begin, we'll first discuss the history of Nerds. Then, we'll talk about this brand's popularity, including other brand facts and trivia. After that, we're going to reveal all the flavors and types of Nerds Candy that are now available for purchase online. So without further ado, let's discover more, shall we?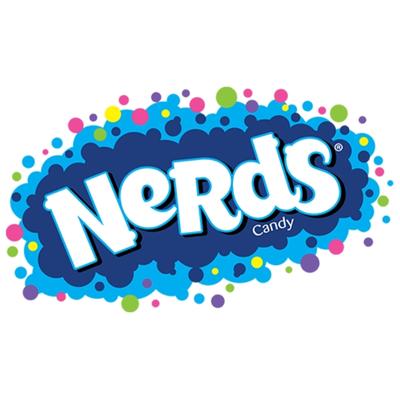 The True History Of Nerds Candy As We Know It Today
Since 1983, Nerds candy continues to amaze its fans, including us! Indeed, its unique shapes and textures set it apart from other candies on the market. The iconic dual-chamber packaging design is not only fun but also keeps the candy separate, we love that. Also, the chewy-crunchy texture of Ropes and Big Chewy Nerds is something that just can't be found in any other candy.
In 1985, the National Candy Wholesalers Association recognized the excellence of this brand by naming it "Candy of the Year." This was only the beginning of the brand. NERDS has continued to innovate through product launches, partnerships, and promotions. In 2001, NERDS Rope was introduced, and in 2010, the Food Network's Unwrapped gave a glimpse into the making of NERDS Rope.
In 2018, Nerds became a part of the Ferrara Candy family. This acquisition allowed this iconic brand to continue evolving and expanding its product line. Soon after, Big Chewy Nerds and Sour Big Chewy Nerds both hit the shelves! Needless to say, they were an instant hit with candy lovers.
In 2021, Nerds introduced Gummy Clusters, which are crunchy, gummy, and yummy! Nerds have always been about being "better together," and these Gummy Clusters were no exception. Not only do they bring together the best of both worlds, but combining crunchy and chewy was just brilliant.
Overall, Neds has come a long way since 1983. From being named Candy of the Year in 1985 to the introduction of new and exciting products, this brand has always been at the forefront of innovation in the candy industry. Now with the introduction of Nerds Gummy Clusters, it's clear that the brand isn't done surprising candy lovers. We can't wait to see what's next!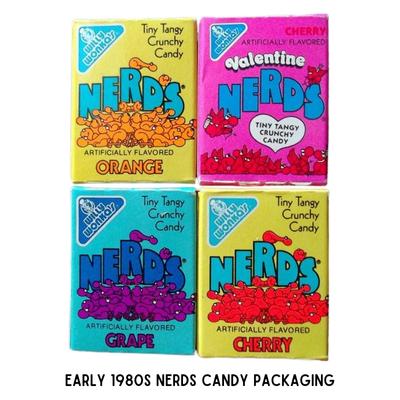 Fun Trivia Facts About Nerds Candy
Nerds candy is a beloved American confectionery brand that's been around since 1983. But, how did it get its name you might wonder?
Well, there are a few different stories out there about how Nerds got its name. One popular story is that it was named after a creature in a Dr. Seuss book called "If I Ran the Zoo." The creature is called a Nerd, and the candy company may have thought the name was catchy. However, this is just a story and we don't know if it's true.
Another story is that the creators of Nerds, David Klein, and his wife, were originally trying to make cereal. But, when that didn't work out, so they ended up making candy instead. They named it Nerds, but it's unclear why they chose that name.
However, we do know that the name Nerds is not related to the term "geek." The candy was named before that term became popular, so we don't think there's a connection there.
Other than that, Nerds candy is now owned by the Ferrara Candy Company. They bought the Willy Wonka Candy line, which includes Nerds, from Nestle in 2018.
All in all, Nerds candy first became popular in the 1980s and has been a fan-favorite ever since. While there have been some similar candies like Dweebs, they didn't last long in the market and never even posed a threat to the popularity of Nerds.
Overall, Nerds candy is a fun, colorful, and delicious candy that has been enjoyed by many for decades. Its unique name and tasty flavors have helped it stand the test of time. If you haven't tried Nerds yet, give them a try!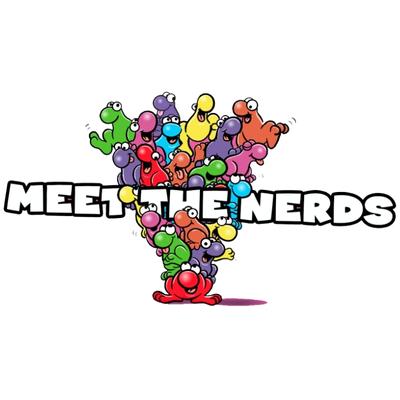 The Most Popular Nerds Candy Flavors And Types
As promised, we're now going to list all the most popular Nerds Candy flavors and types that are available today! We often update our content, so if something changes on this list, we'll be sure to update it as discontinued. We'll also update it as new product flavors and types launch. 
With over five decades of experience selling candy and snacks, we've been able to collect a lot of valuable data and information about candy brands such as Nerds. As a result, we're now able to provide you with the most accurate list of all the most popular Nerds candy flavors and types. So if you're looking for the best of the best of Nerds then here it is, made with you in mind.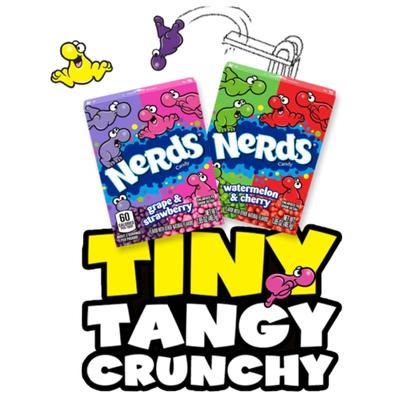 Classical Nerds Candy Mix 1lb Bulk Bags
Nerds Candy Mix is a popular item here in our store, flavors include strawberry, cherry, orange, lemon, and watermelon. Better yet, you can now buy bulk-size 1lb resealable bags here at Candy Retailer. Perfect for snacking on the go, parties, & culinary projects; so if you love Nerds' fruity flavors, then this option is for you! Order now and get creative!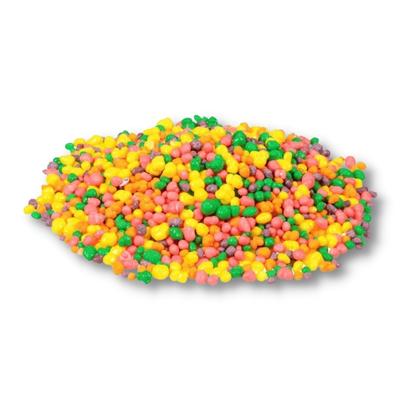 Nerds Big Chewy
Are you looking for candy that packs an authentic fruity flavor punch? If so, then look no further than Nerds Big Chewy candy! Flavors include orange, lemon, strawberry, and grape. Best of all, the chewy center and crunchy exterior make for the perfect texture combination. Now available here at Candy Retailer in a bulk-size 12-pack case and 4.25oz Theater Boxes as both are shown in the image below.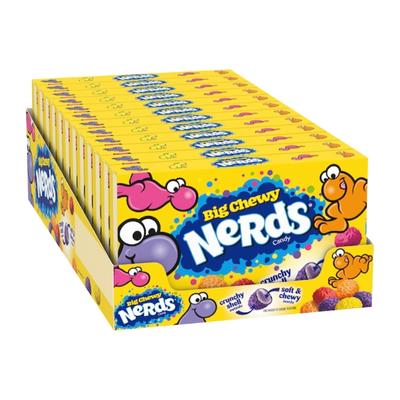 Nerds Gummy Clusters
Get ready for a burst of flavor with Nerds Gummy Clusters! These poppable treats are packed with tangy, crunchy Nerds candy surrounding a deliciously fruity gummy center. Available in a variety of flavors including apple, assorted fruit, strawberry, and watermelon. Perfect for movie nights or for sharing with friends, you can now buy them in a convenient 3oz theater box or in bulk-size cases with 12 sharable pouches per case. Flavor options include Original and Very Berry. Order today at Candy Retailer.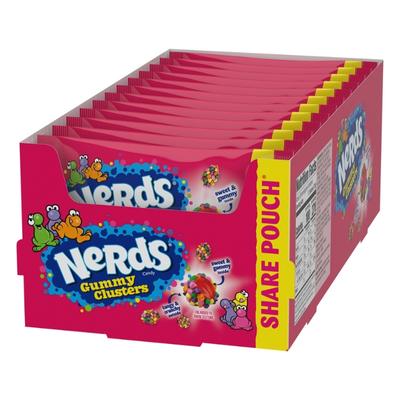 Nerds Grape and Strawberry
Introducing Nerds Grape and Strawberry, the ultimate duo of deliciousness! These sweet little candies are the perfect combination of two classic flavors, grape and strawberry. You don't have to choose between the two, because they come in pairs, side by side. Now available here at Candy Retailer in 36-pack bulk-size cases.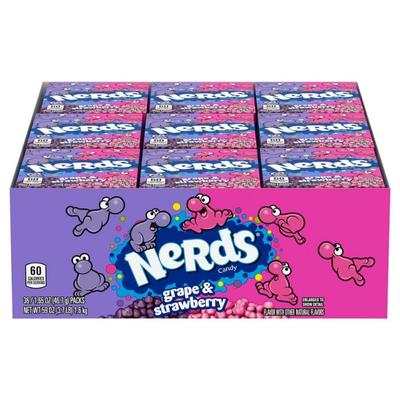 Nerds Watermelon and Cherry
Now welcoming the delicious duo of Nerds Watermelon and Cherry – the perfect combination of sweet and tangy in every bite! Enjoy the satisfying sweet crunch of watermelon, balanced with the mouth-puckering cherry flavors. These irresistible candies are now available in bulk at Candy Retailer in 36-pack cases, pick up one today and win big!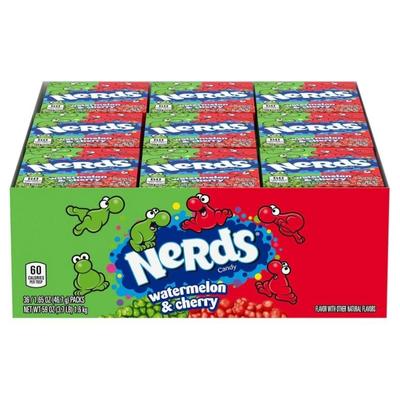 Nerds Rainbow Rope
Get ready for an explosion of fruity flavors with Nerds Rainbow Rope candy! Imagine a chewy, fruity string covered in a rainbow of Nerds candy, that's what you're getting here! Each bite is a burst of sweet and crunchy yumminess. You can now buy 24-pack boxes here at Candy Retailer! Order some today and let us deliver them to you!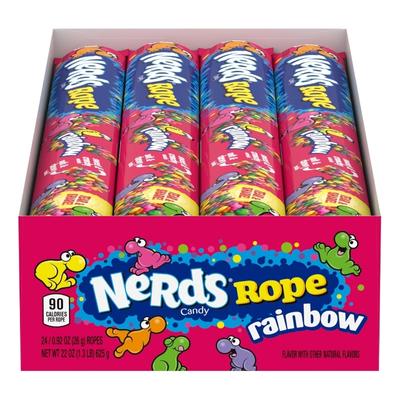 Nerds Tropical Rope
Prepare for a tropical sensation with Nerds Tropical Rope candy! This soft and chewy candy rope is wrapped in a colorful array of tropical-flavored Nerds candy. Imagine the sweet, welcoming flavor of the islands mixed with a satisfying crunch of Nerds candy. Indeed, It's like a vacation in your mouth! Scoop up a 24-pack box here at Candy Retailer and experience the exotic flavors of Nerds Tropical Rope candy today!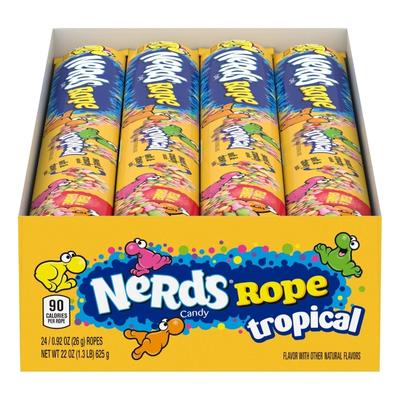 Nerds Very Berry Rope
Prepare for a berry explosion with Nerds Very Berry Rope candy! Each bite combines the satisfying crunch of Nerds with a burst of sweet and sour berry flavors. Even better, they're all stuck on a soft and chewy rope, making it the perfect on-the-go treat. Indulge in the berriest candy of them all, you'll be glad you did. You can now buy them here at Candy Retailer in a 24-pack box and have them shipped nationwide to you or to a friend as a gift.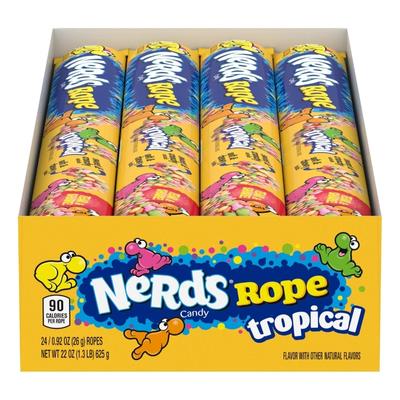 Nerds Rainbow Candy
Unleash a rainbow of deliciousness with Nerds Rainbow candy! This box is bursting with a cascade of flavors, including strawberry, grape, orange, lemonade, and watermelon! Each Nerd has its own unique sweet, tangy, and crunchy flavor that'll keep you coming back for more! So pour out a handful and let the fun begin! Order here at Candy Retailer.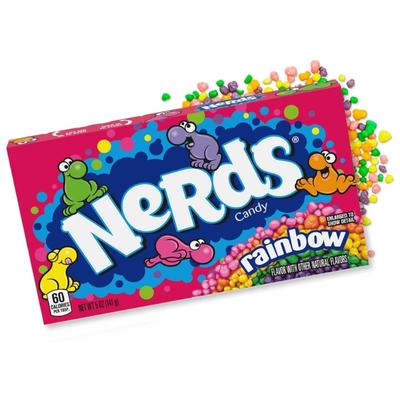 Nerds Twist and Mix
The Nerds Twist & Mix candy dish is the perfect way to enjoy all your favorite fruity Nerds flavors at once. Indeed, this dish comes in five delicious flavors: strawberry, grape, orange, lemonade, and watermelon. With the Twist and Mix dish, you can easily pair up all your favorite flavors and enjoy a unique flavor twist every time. So if you're looking to mix things up a little, then scoop up a Twist & Mix Nerds Candy Dish today and switch it up!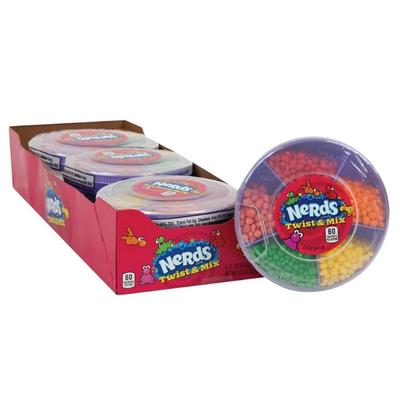 Score Nerds Candy Here For The Big Win
In conclusion, Candy Retailer is the best online candy & snack store for when those Nerds' cravings hit. That's right; our commitment to freshness ensures that all our items are up-to-date and stored in a clean, well-managed facility with automatic temperature and humidity controls. 
As a physical store located just outside of Cincinnati, Ohio, we're always open to the public Monday-Friday and offer bulk candy options that can't be found anywhere else! Additionally, our prices are unbeatable and we offer nationwide shipping with most orders delivering in only 2-3 business days.
We understand the importance of having the most current candy and snack items available. That's why we're pleased to announce that all of our items are stored on-site in a state-of-the-art facility. This ensures that your candy will arrive at your doorstep in the same condition as if you were to visit us in person.
In short, Candy Retailer is the perfect destination for all your candy and snack needs. With freshness, bulk options, great prices, and fast shipping, you won't find a better place to buy your favorite Nerds candy. Check us out today and let your inner child roam free!